PROFESSOR JOSEPH OGBONNAYA IRUKWU, SAN
Hallmarks of Labour Role Model Award for Outstanding Contributions in the fields of Insurance & Risk Management.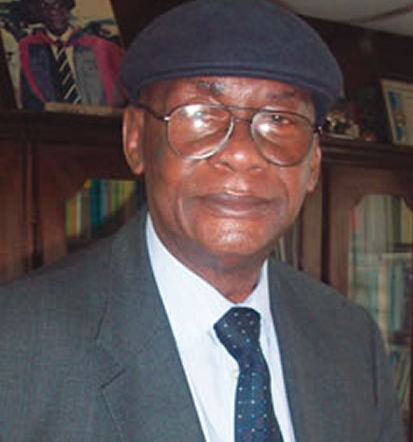 Lawyer, educationist, author & Chartered Insurer, Professor Joseph Ogbonnaya Irukwu, SAN holds the MBA and Ph.D. degrees. He was called to the English Bar in 1962 and enrolled as a Solicitor & Advocate of the Supreme Court of Nigeria the same year.
Over the years, he held key positions in the public and private sectors. He was the pioneer Managing Director/Chief Executive of the highly-successful Nigeria Re-insurance Corporation, in which capacity he served for 12 years.  His other roles include:
 Legal Adviser to the West Africa Provincial Insurance Company [WAPIC].
 Chief Executive, Unity, Life & Fire Insurance Company Limited.
 Founder & Executive Chairman, African Development Insurance Company Limited [now, ADIC Insurance Limited].
 Chairman, Cargo Defence Fund of the Nigerian Shippers Council.
 Consultant to the United Nations Conference on Trade & Development, and Chairman, International Finance & Allied Trades Exhibition and Conference Limited.
 Member, Presidential Council of the International Association for Insurance Law.
 Chairman, Nigerian Students Loans Board, 1972-1978.
 Chairman, Development Initiatives Network  dedicated to the promotion of good governance, human rights, economic empowerment & environmental sustainability.
 Director, Guinness Nigeria PLC & Chairman of its Finance & Risk Committee, 1996-Date.
 Director, Unitrust Insurance Company Limited.
He also served as Chairman, African Continental Bank PLC and Co-operative & Commerce Bank PLC.
In academia, Professor Joe Irukwu is easily a pioneer in insurance and related studies in Nigeria. His lecture circuits span several African countries, even as he is also an Examiner in many universities. Among others, he is Professor of Insurance Studies at the West African Insurance Institute & Chairman of its Board of Studies as well as Adjunct Professor of Insurance & Insurance Law at Enugu State University of Science & Technology.
An accomplished Author, Professor Joe Irukwu, he has written 13 books on various aspects of Insurance, Law and Risk Management; and co-authored the widely-acclaimed International Encyclopaedia of Laws [published for the 1st World Law Conference held in Brussels-Belgium].
He is very active in a number of professional bodies. Among his varied roles are:
 Fellow — British Institute of Management; Nigerian Institute of Management; Chartered Institute of Arbitrators, London; Corporation of Insurance Brokers; and West African Insurance Institute.
 President — African Insurance Law Association, Nigerian Insurance Law Association, Faculty of Risk Management, and African Insurance Educators Agency.
  Founding President, Professional Reinsurers Association of Nigeria; Past President, Insurance Institute of Nigeria; Past Chairman, Nigerian Insurers Association; and Past President, West African Insurance Companies Association.
Within and outside Nigeria, this eminent educationist and risk manager has been accorded numerous recognitions. Included here are:
  1997 National Productivity Order of Merit conferred by the Nigerian Head of State, for outstanding contributions to national productivity and development.
  Senior Advocate of Nigeria, 2003.
  First African to be decorated in Paris-France with John S. Bickley Founders' Gold Medal and the IIS Award for Excellence in recognition of his outstanding professional & intellectual contributions to the development of insurance and risk management " the highest award in the world of insurance".
  Gold Medals and Certificates of Merit by the African Insurance Organization, West African Insurance Companies Association, and Federation of National Insurance Companies of French-Speaking African Countries.
 Honorary doctorate degrees.
  1993 & 1998 Merit Award of the Government of Abia State for outstanding and meritorious service to the State and the nation.
Patron of many philanthropic organizations across Africa, he also served as President-General of Ohanaeze Ndigbo the pan-Igbo socio-cultural organization.
He is married with children.
*****
Ladies and gentlemen, we present an undisputed Leader of Insurance in Nigeria, an Educationist, Author and Senior Advocate of Nigeria, Professor Joseph Ogbonnaya. Irukwu for the "Hallmarks of Labour Role Model Award for Outstanding Contributions in the fields of Insurance & Risk Management".
Congratulations.