Prof Ngozi Okonjo-Iweala, HLR
HLF AWARD FOR EXCELLENCE in Corporate Governance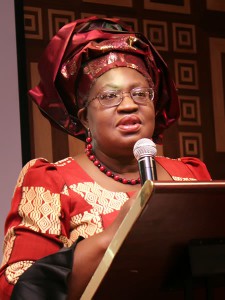 Dr. Ngozi Okonjo-Iweala was born on June 13, 1954 in Ogwashi-uku, Delta State. She was educated at Harvard University where she graduated in 1977, and Massachusetts Institute of Technology (MIT), where she obtained her PhD in Urban and Regional Planning. She joined the World Bank in a career that spanned 21 years as a Development Economist, Vice-president, Operations, 1989 – 91; Director of Institutional Change and Strategy, 1995 – 97; Country Director, Malaysia, Mongolia, Laos and Cambodia, 1997 – 2000; Deputy Vice-president, Middle East Region, 2000 – 2003. In June, 2006, she was Managing Director, World Bank till July 2011.
Dr. Ngozi Okonjo-Iweala, now Hon. Minister of Finance for the Federal Republic of Nigeria, is holding the position for the second time. On her first outing in 2003, she held the position of Finance Minister and Foreign Minister till 2006, thereby holding the record of being the first woman to have occupied either of these positions. She will always be remembered for the fiscal discipline she brought to the nation's finances.
She attacked corruption and accelerated privatisation and liberalisation. She signed Nigeria up to the Extractive Industries Transparency Initiative, a voluntary standard for petroleum and mining industries. On her watch, Nigeria's inflation more than halved and she was instrumental in helping Nigeria obtain its first ever sovereign credit rating of BB minus from Fitch and Standard and Poor's. She also arranged the cancellation of $18 billion of Nigeria's debt to the Paris Club, in 2005. The remaining $12billion of debt was paid the following year with money saved in budget reforms she proposed.
Dr. Okonjo-Iweala resigned as Nigeria's Foreign Minister on August 3, 2006 and by October 4, 2007; World Bank President Robert Zoellick had appointed her to the post of Managing Director.
Given the recent challenges faced by Nigeria on how to manage the macroeconomic policy in such a way as to achieve the Country's vision 2020, she once again returned to serve her Country.
She is a recipient of several National and International Awards and a member of numerous Boards and advisory Groups, including the CLINTON GLOBAL INITIATIVE DATA and the World Resources Institute. She serves as Financial Adviser to Several International Investment Groups. An accomplished author, some of her works include: Chinua Achebe Teacher of Light – a biography of Nigerian Author, Chinua Achebe co-authored with Tijan Sallah and The Debt traps in Nigeria: Towards a sustainable debt strategy.
She is married to Dr. Ikemba Iweala from Umuahia, Abia State and they have four children.
Her immeasurable contribution to the promotion of Good Governance, the introduction of fiscal discipline to the nation's finances, her fight against corruption, and her laudable transparency initiatives, make our Awardee stand tall. A Great Nigerian, Economist, Academic and worthy performer. Hallmarks of Labour Foundation salutes Dr. Ngozi Okonjo-Iweala, and invites her to join the league of worthy Patriots of Hallmarks of Labour Role Model (HLR) recipients.
Congratulations!