Brigadier Mobolaji Johnson HLR
Hallmarks of Labour Role Model Award March 7, 2001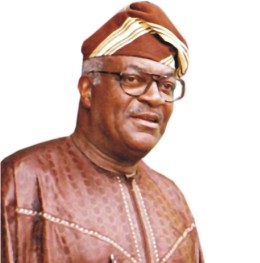 It is not a frequent occurrence that a past ruler in Nigeria should come out with clean hands if subjected to a probe on corruption and self-enrichment.  One man who stands out boldly among the extremely few have and who can pass this litmus test of selflessness transparency in leadership is the first Military Governor of Lagos State, Brigadier-General Mobolaji Johnson,(rtd).
Generally referred to as the architect of modern Lagos, Brigadier-General Johnson administered and governed Lagos from 1960 to 1975, a period of nine years in which he gave the city of Lagos and the state in general, a new international look through the construction of highways, bridges and other modern structures.  For example, in order to make it possible for people to travel from one part of Lagos state to the other without having the pass through a neighbouring state Brigadier-General Johnson built and commissioned the Hoikin Bridge to link Epe to Ikorodu in 1968. In 1969 work commenced on the Lagos – Badagry highway, and it was originally meant to be a single carriage way.  However, when Brigadier-General Johnson visited the United States later that year he came back with the inspiration to make Lagos – Badagry highway a double carriageway, the first ever in Nigeria.  When the expressway was officially declared open by General Yakubu – Gowon in 1973, a big display board was conspicuously positioned which dedicated the road to Lagos tax payers, in order to encourage citizens to pay their taxes.
Brigadier-General Johnson exempted many other projects, including the reclamation of the Bar Beach shoreline and the allocation of the various state of federation for the construction of their liaison offices.
However, when General Murtala Mohamed took over power in 1975, all Military Governors under the ousted region of General Yakubu – Gowon were relieved of their duties and their activities probed by the new regime. Brigadier-General Mobolaji Johnson came out completely clean – cleared of any malpractice. This was highly significant because it underscores Brigadier-General Johnson's personal beliefs and guiding principles.
Brigadier-General Mobolaji Johnson was born on the 9th of February, 1936 in Lagos, where his father who was from Abeokuta had settled since the age of eleven.  His mother was former Miss Dudley-Coker whose father worked in the Railways and was of Sierra Leon and extraction.  Brigadier-General Johnson speaks very fondly of his parent, from whom he acquired his well acclaimed humility and practical skills.  He attended Baptist School, Yaba, and Methodist School, before gaining admission into Hussey College, Warri in 1952.  In 1954 he came back to Lagos to continue his education in Methodist Boys High School, where he finished in 1957.
Brigadier-General Johnson's military career began in 1959, when he entered the Officer Cadet Training School, Ghana, from where he later proceeded to Sand Hurst in the United Kingdom.  After his military training he served with the United Nations Peace Keeping Tromps in the Congo, before returning to Lagos.  In 1966 he was promoted to the rank of Major, before he was appointed Military Administrator of Lagos State.  He became Military Governor in 1967.
Brigadier-General Johnson found his military career very interesting and challenging especially his time at the Federal Guards (now Brigade of Guards) which he nurtured.
Brigadier-General Johnson is married with children. His wife, former Miss Olufunmilayo Aganga Williams, recalls how they met about forty years ago, and throws some light on the person of Brigadier-General Johnson.
Brigadier-General Johnson, tall and impressive, was an all – round sportsman in his younger days.  He played squash, polo, tennis, card games and took active part in athletics.  Today, he just plays some golf, and his main business interest is in Jalino Berger, where he is the chairman.
Brigadier-General Olufunso Mobolaji Johnson, a symbol of humility, dedication, uprightness and honesty, even as a Military Governor.  A perfect role model in leadership.
He is also Chairman Nigeria Conservation Foundation and Chairman Executive Council of Lagos State University Development Foundation.