Senator Abraham Adesanya, HLR
Hallmarks of Labour Role Model Award July 24, 2000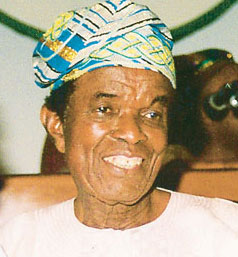 Going back into history, one comes across men and women whose commitment to the course of the downtrodden has been unshakeable. These were people who stood against oppressive and corrupt leadership with courage and fortitude. People who became shinning examples and role models in hard work, diligence, commitment, truthfulness and transparency. People like Mahatma Gandhi of India, like Nelson Mandela of South Africa.
In Nigeria, we had the late sage, Chief Obafemi Awolowo and today one of his followers who has deservedly become chairman of AFENIFERE and leader of the Yoruba Nation. He is Senator Abraham Adesanya, a fearless and courageous fighter for any cause he believes in. he has been an active politician for over thirty years crowning it all with the role of human rights activist and pro democracy campaigner.
Senator Adesanya or Pa Adesanya, as he is now popularly known was born in Ijebu – Igbo Ogun State, on the 24th of July, 1922. His father, Pa Isaac Adekoya Adesanya was an herbalist and his mother was Elizabeth Odiya Adesanya. He attended primary schools in Ijebu – Igbo and Oshogbo before entering Ijebu – Igbo Grammar School in 1941. This marked the beginning of the manifestation of Senator Adesanya's special gift and talent, for he literally walked from primary school straight into class IV in the secondary school by passing a special entrance examination. One would think that this could have been a handicap to his studies, but no! He passed his Cambridge examination in 1943 in flying colours.
 Senator Adesanya has always wanted to be a lawyer, but as funds were not easy to come by in those days, his only option was to take up appointment in the civil service. He joined the colonial audit department as a clerk in 1945 but his searching, critical nature was soon to manifest itself as he joined the civil service union. Within a short time he soon became the secretary of the Metropolitan Council of Nigeria Civil Service Union and played a leading role in the first civil service strike in 1948.
Not content with pursuing a career with the civil service, Mr. Adesanya had to go into import/ export and petty trading business in order to raise funds to travel to England to read law. He registered at Grays Inn, London but his studies were interrupted mid stream when he was called home to contest election into the Western House of assembly. He had to find another opportunity to complete his law studies.
Abraham Adesanya has had a brilliant law practice. He made history when as a young lawyer in 1964, he assisted Mr. Victor Durang a British lawyer in representing Chief Obafemi Awolowo during his appeal in the celebrated treasonable felony case. It was Adesanya who holding up a copy of the book "12 portraits of power" told the court that the said book could not be regarded as subversive having been written for students preparing for the G.C.E.
In a bold submission young Adesanya also referred too another book "Flashes of Inspiration" which had been tendered as exhibit. He said the book gave insight too Chief Awolowo and that there was no existence to prove the bitterness referred to by the judge against Sir Abubakar Tafawa Balewa and Alhaji Ahmadu Bello. He described the submission of the prosecution as full of mischief and suspicious moves. He concluded by saying that there was no evidence to show that his client sent people to Ghana for training.
On the political front just as Egbe Omo Oduduwa led by Chief Obafemi Awolowo metamorphorsized into the action Group, 50 did NADECO, and AFENIFERE led by Abraham Adesanya mature into Alliance for Democracy. Both the Action group and the latter Alliance for Democracy have similar programmes and Abraham Adesanya has never deviated fro Awo's policies.
His fervent belief in Awo's ideology prompted him and his Afenifere / Nadeco group to decamp from any party that had bearing with Abacha and his supporters. Afeniferee moved out of the People's Democratic Party joined the All Peoples' Party (APP) before finally forming the Alliance for Democracy (AD)
Abraham Adesanya's commitment to democracy is total and unflinching. His dislike for military regimes cannot be hidden under the table. And that is why he had his own share of attacks and persecution suffered by pro – democracy crusaders. He was nearly killed by assassins of the Abacha regime and after he had been taken into detention for flimsy reasons. He has condemned the transition programme of Abacha as fake, and canvassed for its entire cancellation. To quote from the book by Dr. S.A. Sodimu, "Abraham Adesanya has been known to be consistent in his opposition against the military. He is not bothered by juicy contracts and political appointments from the military boys." It is on record that Abraham Adesanya has never been given any political appointments by any military regime in the country. He is neither a lobbyist nor a sycophant. He is firm, fair and strict.
Senator Abraham is married with four children, one of whom has been appointed a minister by the democratic government under President Olusegun Obasanjo.