Professor Wole Akinwande Soyinka, HLR
HLF EMEKA ANYAOKU LIFE-TIME ACHIEVEMENT AWARD for Nigeria's Most Oustanding International Icon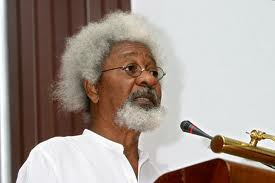 Professor Wole Akinwande Soyinka, Novelist, Poet, Essayist, Play-Wright, Nationalist, unbending advocate of democracy and human rights, an insuppressible social critic, Africa's first and Nigeria's only Nobel Laureate was born in 1934 at Isara, Remo division of Ogun State
After his initial education at the University College, Ibadan, Wole Soyinka went on to the University of Leeds, England, where he earned an Honours Degree in English Literature.
An accomplished writer, Professor Soyinka has effectively used Yoruba culture and mythology as the philosophical basis of his writings and thus transformed the patterns of Nigeria's and African theatre in English. By sheer dexterity also, he has elevated the status of African Literature to an essential part of the world's cultural heritage.
Using his towering stature as Africa's first Nobel Laureate, and extensive knowledge of world affairs, Professor Soyinka has stridently defended human rights and dignity, social justice and democracy in Nigeria. His deep philosophical convictions about State and society and his struggles to liberate the minds of the ordinary Nigerian from a highly deceptive kleptocracy has earned him detentions and exile. His prison experience during the Civil War years are recounted vividly in one of his master pieces, The Man Died (1972).
In his books and writings, Prof. Wole Soyinka continues to express the voice of the oppressed by exposing the ills of dictatorship, bad governance and the evils of corruption in Nigeria and Africa as exemplified by his book, The Open Sore of a Continent.
Professor Wole Soyinka holds Honorary Doctorate Degrees, Fellowships and memberships of: The Universities of Ibadan, Yale, Harvard, Nevada, More house and Emory in the United States of America; Leeds, Manchester, Sheffield and Edinburgh in the U.K; Toronto and Alberta in Canada; Paul Valerie, Montpellier and Sorbonne in France; Bayreuth in Germany, Cape Town in South Africa; Havana in Cuba; Turin and Bologna in Italy and the European University in Hungary.
He is also a Fellow of the Royal Society of Literature of the U.K and Academic Universelle des Cultures, France. He has received several other literary honours, medals and artistic awards in virtually all the continents of the world.
Ladies and Gentlemen, we present Professor Wole Akinwande Soyinka, teacher, writer, African Nationalist, defender of human rights and social justice, Africa's first and Nigeria's only Nobel Laureate as Nigeria's Most outstanding International Icon.
Congratulations!