PROFESSOR ITSE SAGAY, SAN, HLR
A distinguished scholar, teacher, legal luminary, author & human rights advocate, Professor Itsejuwa Esanjumi Sagay was born 20th December 1940 in Ibadan, Oyo State.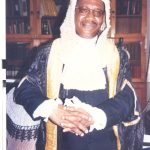 His father, Pa Andrew Esanjumi Sagay, was a teacher and strict disciplinarian who ensured that his children imbibed the culture of hard work, integrity and responsible conduct. He began his early education at CMS School, Warri and Government College, Ughelli. Young Itse's ambition was to study Medicine but his constant visits to the House of Representatives to watch members engage in lively debates persuaded him to change his mind. He then applied and got admitted into the University of Ife, Ile-Ife, in 1962 whence he obtained his bachelor of Law degree (LL.M) in 1965 and that marked the beginning of several decades of activism in public affairs.
Itse Sagay went through the mill studying under distinguished lecturers; and was rewarded for his diligence and focus. Among others, he earned a National Scholarship for the Best Performance in University [LL.B.] Examinations for three years [1963- 1966] and in the Nigerian Law School, he also won the Prize for Best Performance in Revenue Law and Best Overall Performance in the Bar Examinations [1966].
Opting for a career in academia, Itse Sagay was retained by University of Ife, which duly sponsored him for post-graduate studies at the famed King's College, Cambridge University, UK, where he obtained his Master's degree in 1968 and breezed through his Doctorate degrees in just two years. He returned to Ife as an International Law expert of note to start a life-long career in the teaching and mentoring of young Nigerians in the intricacies of the Law and on crucial aspects of Justice.
In 1976, he further obtained the Certificate of The Hague Academy of International Law. Back at Ife, Dr. Itse Sagay was in his element as he successively attained the ranks of Lecturer, Senior Lecturer, Ag. Head, Department of International Law. In 1979, he was elevated to the rank of Professor of Law and later Acting Dean & Dean Faculty of Law [1981-1982].
In 1981, Professor Itse Sagay went to the University of Benin as a visiting Professor and later joined that institution on a full-time basis in 1982 as the young faculty's first and only professor for the first few years.
Aside being the founding Dean, Faculty of Law (University of Benin), he was a member of the planning committee for the establishment of the Bendel State University [Ambrose Alli University] in Ekpoma and also the chairman of the committee that prepared the blue print for the setting up of Legal studies in that same institution.
Along the line, Itse Sagay and some of his ASUU colleagues' activism set them on a collision course with the authorities, and they were compulsorily retired by the Babangida military regime. They went to court and were re-instated some seven years later. Professor Itse Sagay returned to the classroom and eventually "hung his academic gloves" in 2004.
With specialties and publications in Public International Law, Law of Contracts, Family Law, Law of Succession, African Customary Law, Human Rights and International Humanitarian Law, Itse Sagay's doctoral dissertation at Cambridge titled: "South-West Africa: Its International Status And Other Legal Problems" and a follow-up monograph – "The Legal Aspects of the Namibia Dispute" were important documents in the payload of UN instruments and materials that were deployed in the eventual resolution of the myriad issues regarding South-West Africa and the declaration by International Law of the true and correct status of the state of Namibia. On Racial Discrimination, South Africa and civil rights, his paper, "State Terrorism In South Africa" became an official UN Document.
Professor Itse Sagay is the proud author of eleven books which has become some of the greatest resource materials for Law Students, indeed his book, "The Nigerian Law of Contract" is an epochal publication which remains 'The Bible' on Nigerian contract law. He has also written over one hundred and fifty articles, conference papers and reviews.  Recognized within and outside Nigeria, he has served in ad-hoc capacities in a number of Nigerian and international institutions, including: the OAU, UNDP, Nigerian Law Reform Commission, Nigerian Institute of Advanced Legal Studies, Nigerian Council for Legal Education, UN Special Committee Against Apartheid, amongst others.
An accomplished Senior Advocate of Nigeria [SAN] on the basis of academic works, Professor Itse Sagay is also a Fellow of the Chartered Institute of Arbitrators; Member, the International Law Association; Member, American Society of International Law; and Member, the Nigerian Society of International Law, and many more.
Presently, the Managing Partner of Itse Sagay & Co. since 1988, he was appointed Chairman of the Presidential Advisory Committee on Corruption by President Mohammed Buhari in August, 2015, a clear testimony to his integrity, high principles and strong sense of propriety.
Professor Itse Sagay's teaching legacy will forever be engraved first in the hearts, minds and achievements of his former students [many of whom have become celebrated as distinguished Judges, Senior Advocates, Legal Scholars, Attorneys-General, a Governor, captains of industry, political leaders, etc.];  and in his lectures, academic papers, monographs and books.
Professor Itse Sagay is happily married, with children, to Mrs. Sheila Tare Sagay.
Ladies & Gentlemen, we are proud to invite Professor Itsejuwa Esanjumi Sagay to step up and receive the Hallmarks of Labour Foundation Role Model Award for his Exemplary/Courageous Service To The Advancement of Our Legal System particularly in the area of learning and publication.