Prof. Olikoye Ransome-Kuti OFR, HLR
Hallmarks of Labour Role Model Award July 7, 2002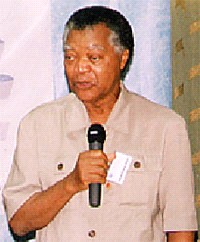 Paediatrician, administrator, former Minister of Health of the Federal Republic of Nigeria.
Professor Olikoye Ransom Kuti was born on December 30th, 1927 in Ijebu –Ode Ogun state. He had his primary and secondary education in Abeokuta his hometown, he then attended Higher College Yaba from 1946-1947 and University College (now university of Ibadan) from Jan – July 1948 after which, he travelled to the Ireland where he attended Trinity College Dublin, where he studied medicine between 1948 – 1954, He was assistant medical officer at the Hospital for Sick Children, Great Ormond Street, and he attended Hammersmith Hospital's postgraduate medical school between 1960 and 1962. Professor Ransome Kuti's advocacy and promotion of good health especially of children has not been restricted to Nigeria but has traversed many nations of the world. After  serving in various positions as house officer both in UK and Nigeria, he became Senior Registrar in paediatrics  in UCH,   Ibadan  1962 – 1963 and later  senior lecturer University of Lagos, 1967- 1970. He became Acting Director, Institute of Child Health 1968- 1970 and Professor and Head of Department of Paediatrics, College of Medicine, University of Lagos 1970 – 1976. Professor Ransome Kuti's career appointments are numerous:
He was member, WHO, Expert Advisory Panel on Maternal and Child Health
WHO, visiting consultant Department of Paediatrics, Makarere University Kampala Uganda, 1969
Consultant to the Ministry of health to the government of Zambia 1973;
Member consultative group, African Heads Training Institute, University of North Carolina, USA 1974-1978;
Senior Associate, Department of International Health, John Hopkins University Baltimore, USA 1979-1983.
He is a fellow of various institutions in Nigeria and Overseas.
In 1985, Professor Ransome Kuti was appointed Federal Minister for Health, a position he held for eight years. During his tenure, he made so much impact on the nation's health care that so many people wanted him to remain there forever. He introduced the University Primary Health care and publicized the immunization PPI program to curb the increasing rate of diarrhoea among children, he encouraged the usage of ORT (Oral dehydration therapy) by nursing mothers.
He encouraged mothers to breast feed their children for at least one year for the proper development of the child. He also worked hard towards the prevention of HIV/AIDS.
Professor Ransome Kuti has received numerous awards nationally and internationally.
They include the UNICEF merit award 1990, Bureau of public health 1991, he was the chairman of the primary health care foundation. He has authored several books and publications but in spite of all his achievements, his humility and modesty stand out clearly. He died on 1st June 2003