Prof. Aliu Babatunde Fafunwa, NNOM, CON, HLR
Hallmarks of Labour Role Model Award October 23, 2007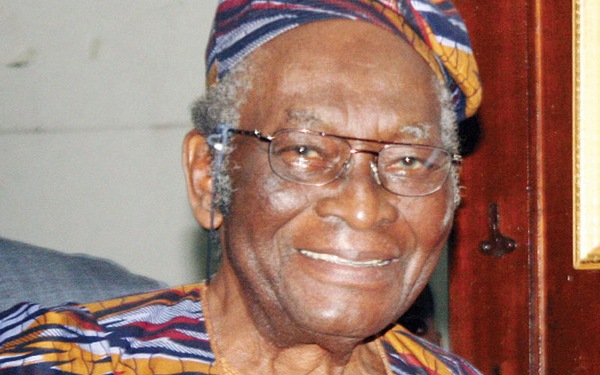 In every field of human endeavour, every profession or calling, there are to be found a few men and women who dictate the pace, whose opinions, conduct and actions influence to a very large degree, the mode of practice in that particular field. These are the people who are able to combine talent with scholarship, backed up with a single minded determination to excel, invariably becoming leaders and pioneers.
Thus in the field of education, No other Nigerian better qualifies for the title of a teacher of teachers than our honoured guest, Professor Aliu Babatunde Fafunwa (CON) Statesman and erudite scholar who has dominated teachers' education in Nigeria, like a colossus for almost five decades.
Born into the Onikoyi Chieftaincy family of Isale Eko, Lagos to Pa Sanusi Giwa Fafunwa and Madam Morinatu Fafunwa on Sept 23, 1923, his early beginnings were full of struggles, set – backs and successes. At a very tender age, young Aliu Fafunwa assisted his father in his trade as a fisherman and his mother, in petty trading while in Jebba, Niger state, where they had moved to, from their native Lagos, for economic reasons. Perhaps it was the memory of such happy childhood moments, that went through his mind, when he later wrote about the character forming nature of Traditional and informal African education. He had his primary education at Muslim training school Ebute – Elefun and Ahmadiyya Talimul School Elegbata Lagos, between 1932 and 1936. He proceeded to C.M.S. Grammar School, Lagos between 1937 and 1943 for his secondary education. Before leaving for Florida, United States of America in 1947, Prof. Fafunwa worked for a short while, at the Nigerian Railway Corporation. He was so dissatisfied and exasperated by the treatment of his British colonial bosses, at the Nigerian Railway Corporation (NRC) that he was eager to further his studies and return to  Nigeria to join in the task of nation building.
His time in the United States of America afforded him the opportunity of bagging three degrees, all cum laude. He was awarded his B. Sc in Social Science and English, his M.A in English Education at the New York University and his P.H.D. in Administration and Higher Education.
The Philosophy behind Prof. Aliu Babatunde Fafunwa's life work has been, the de-emphasizing of formal, structured, examination-oriented, and Western-oriented education, for a more 'holistic', functional educational system that emphasizes flexibility and usefulness to the society. Prof. Fafunwa sees education as a means to an end, and not an end in itself. It was perhaps at Esso West Africa, where he worked from 1957 to 1961 as recorded by Aladejana and Alao in their book 'Aliu Babatunde Fafunwa', that Aliu Fafunwa was convinced that 'paper qualification has its limits. There, he found out that most of the expatriate members of staff had little or no paper qualifications not withstanding, they had exposure and training on the job and were truly experts in their various fields'.
Ironically, a man with so many formal academic achievements became the arrowhead of so much change in the area of education.
Perhaps Prof. Aliu Fafunwa will best be remembered for his advocacy of learning, in our 'mother-tongue' with English as a second language during the six years of primary education.
The use of the mother tongue, according to Fafunwa would;
1. deliver the student from the shackles of colonialism.
2. Allow for effective and meaningful communication between the teacher and student within and outside the classroom, and
3. Promote the development of mature judgement by the pupils. Fafunwa's belief is that ultimately Education must be relevant to 4. the needs of the society and be able to re-direct the society, if need be.
His second most important pioneering work is the introduction of primary science programme at the Primary education level in Nigeria.
Incidentally, Professor Aliu Babatunde Fafunwa's career in education began on a humble note on his return from the United States of America.
He started as a Senior tutor and later became Principal of the Ahmadiyyah College, Agege from Jan. to Dec. 1956
Then he moved from education to take up employment as Public Relations Manager at Esso West Africa from 1957 to 1961,
He went back to the classroom as a Senior Lecturer and head of education and later Associate Professor and Dean of the Faculty of education, University of Nigeria Nsukka in the year 1964.
By 1965, he was Professor, Director of the Institute of Education and Head, Department of Education. And finally by 1966, he was acting Vice Chancellor of that University.
From 1967 to 1972, he was a Senior Lecturer and later Deputy Vice Chancellor at the University of Ife.
He was appointed to the Ibadan University Council from 1972 to 1975 and was member, board of Lagos State teaching Service Commission between 1976 and 1979. Between 1985 and 1990, He was the Vice President and later President of the Nigerian Academy of Education and was appointed Honourable Federal Minister of Education and Youth Development where he served from 1990 to 1993.
He held numerous administrative and academic appointments, he was an external examiner on education to five Nigerian universities and a number of foreign universities have benefited from his wealth of experience for example, Makarere University in Uganda. University College Cape Coast Ghana, University of West Indies, Jamaica and the University of Sierra Leone.
Professor Fafunwa has also served in very crucial capacities and has been appointed to numerous organizations and commissions.
He was National President, Nigeria Experiment in International Living (1957-1980);
Member, Editorial Advisory Board, Teachers College Record, Teachers College, Columbia University (1973-84);
Chairman of Council, Lagos State College of Education (1981-82).
He was also President, International Council on Education for Teaching (ICET) Headquarters, Arlington, Virginia, U.S.A.(1990-1994).
Professor Fafunwa is an author of international repute. He has authored about twenty-two books and has nearly fifty publications in National and International Journals, including one in Polish language titledProblemy Afrikan Instuki publishedin January 1964. Over the years, his contribution to education have attracted recognition including scholarships, awards, medals and appointments world-wide.
He won the Franklin Brook Award for outstanding contribution to Educational Development, New York, 1973;
Medal for Distinguished Service in Education, Teacher's College, Columbia University,1973;
Distinguished Alumni Achievement Award, New York University School of Education,1982;
Distinguished Fellow, International Council on Education for Teaching, Washington D.C., 1983.
Aliu Fafunwa was a powerful force behind the formation of the Nigerian Academy of Education which has today become the most credible assemblage of the who-is-who in the field of education. He also chaired what is now known as the Fafunwa "Study Group" on the funding of Primary Education. The report of the group spelt out how to stabilize education at the base (primary level); the role of each tier of government and of parents too. It was that report that led to the birth of the National Primary Education Commission by the Federal Government in 1987.
Apart from his contributions to education, Professor Fafunwa is a God – fearing man, his contribution to the cause of Islam dates back to over four decades. He is a sound member of the Shooting stars (1948) Islamic club as well as the Committee on Muslim Islamic Schools (COMIS) located in Iwo town, Osun State. Perhaps the best way to appreciate Fafunwa's role is to examine his activities within Jama-al-ul- Islamiyya. Following his election into the executive Council in July 1988, Prof. Fafunwa became second Vice- President however with the passing on of the President Alhaji Oseni in 1994, a vacuum was created in the organization that only the appointment of Prof. Fafunwa could fill providing respite to a hitherto agitated Leadership in the Nigerian Muslim Community. Since he assumed office as president in 1995 a position he held until 2005, Prof. Fafunwa has injected charisma, unequalled vigour and intellectualism into the organization.
Professor Aliu Babatunde Fafunwa is a dedicated husband, father and grandfather. His wife Doris Elaine Jones who hails from North Bennington, Vermont U.S.A. has been a companion and a pillar of support for more than fifty – four years.
Their marriage is blessed with four children and several grandchildren.
A role model and a trial blazer, in his private and professional life this man of letters has proved himself to be an icon to be identified with and an example to be emulated.
He is the recipient of three honorary doctorate degrees one from University of Nigeria, Nsukka in 1986, another from the University of Ife (now Obafemi Awolowo University) in 1987 and the third from the Lagos State University in the year 2000.
He is a recipient of the Nigerian National Merit Award in 1989, Commander of the Order of the Niger (CON) in 2002.
Professor Aliu Babatunde Fafunwa is truly a teacher of teachers!