Prof. Akinlawon Ladipo Mabogunje, CON, NNOM, HLR
Hallmarks of Labour Role Model Award January 27, 2005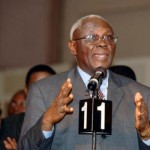 PROFESSOR AKIN L. MABOGUNJE
Professor Akinlawon Ladipo Mabogunje was born some close to 70 years ago to late Pa Joseph Omotunde Mabogunje, a retired UAC official, and MaDAM Janet Adeola Mabogunje, a trader.
Young Mabogunje had his elementary education at the Holy Trinity School and the United Native African Church School in Kano (1935-1941) and Central School Mapo Ibadan in 1942. His secondary education was at the famous Ibadan Grammar School (1943-1948)
His University education began in 1949 at the then University College, Ibadan where he earned a B.A General degree in Geography in 1953. Not satisfied, Professor Mabogunje proceeded to the University of London where he earned a B.A (Hons.) degree in 1956; a Master's and a Ph.Dd degree in Geography in 1958 and 1961 respectively.
Professor Mabogunje (ALM) started his professional career as a lecturer at the University of Ibadan in 1958. He became a senior lecturer in 1964 and a professor of Geopgraphy in 1965. Thus, at the tender age of 34 years and within seven yeards of joining the University staff, he had reached the highest level og his profession. This is a record which has been impossible to equal or break not only in the Department of Geography, in particular, anywhere in Africa, but also in the Social Sciences in general.
Professor Akinlawon Mabogunje had served as a Visiting Professor to about a dozen top-rated Universities all over the world. Among these are the Universities of Cambridge, oxfored and London; Universities of Durham, Goteborg and Lund; Northwestern University in the USA; McGill University in Canada and as a Visiting Scholar to the Chinese University of Hongkong.
Professor Mabogunje has ably demonstrated his administrative expertise and competence in many spheres at the University level, national and international levels.
At the University of Ibadan, he was Head of Department of Geopgraphy (1972-1975); Dean Faculty of the Social Sciences (1968-1970) and Director, Planning Studies Programme (1972-1981). He was a member of Senate (1965-1981) and Chairman of many Senate and Council Committees where his contributions to the development of the University of Ibadan were enormous.
At the professional level, Profesor Mabogunje was Editor of the Nigerian Geograhical Journal (1962-65); Editor, Oxford Uiversity Press series on studies on the Development of African Resources; President, Nigeria Geographical Association (1972-1982); Vice-President, Nigerian Ecological Society (1973-79); President, National Council Population Activities (1986-1992); and Executive Chairman, Development Policy Centre, Ibadan (1996-2000).
At the National level, he had served in various capacities both in the public and private sectors of the Nigerian economy. He was a member of the Western Nigerian Economic Advisory Council (1967-71); Member, Federal Public Service Review Commission (1972-74); Consultant, National Census Board (1973-74); Chairman, Nigerian Council for Management Development (1976-79); Consultant, Federal Capital Development Authority (1976-84); Pro-Chancellor and Chairman of Council, Ogun State University, Ago-Iwoye (1982-91); Member, Board of Directorate of DFRRI (1986-1993); Member, Board of Trustees Nigerian National Merit Award Endowment Fund (1983-1989) later Chairman of the Fund (1989-94) and Executive Chairman of the National Board for Community Banks (1991-94).
In the private sector, he served as a member of the Board of Directors, Nigerian Agricultural Products Co. Ltd. (1975-76); Vice-Chairman, Pai Asssociation International (Nig.) (1974-1989); Vice-Chairman, Board of Directors Pi, International Co. Ltd. (1990-date); Chairman, Board of Directors, Fountain Publications (1990-date); Member, Board of Directors, Shonny Investments and Properties Ltd. (1994-date) and Chairman Board of Directors, First Interstate Merchant Bank (Nig.) Ltd. (1995-date).
At the international level, Professor Mabogunje has also held many important positions either as a member, Chairman or President of about a dozen organizations. Among the most notable ones are being Vice-President of the International Geographical Union (IGU) (1980-1992), an organization of which he later became the First African to be President (1980-1984). He was also Vice-President, Governing Council for Pan African Institute for Development (1972-78); Vice-President, Governing Council for PanAfrican Institute for Development, Douala Cameroon (1978-1984); Chairman, International Committee for Overcoming Hunger in the 1990s (1988-1994); Visiting Research Fellow, World Bank, 1990; Member, Executive Committee, Senior African Leadership Forum (1992-date); Adviser to the Secretary General, United Nations Second Conference on Human Settlements (1994-1999).
This distinguished scholar the 'father' of Geography and one of the 'father' of the Social Sciences in Nigeria, is the recipient of about 20 Honours in various academic, professional and administrative fields both at the national and international levels. In act, he started collecting these honours very early in his professional career. He was the prize winner in Geography, University College, Ibadan (1950/51 and 1951/52); he received the David LivingstoneCentennial Gold Medal, awarded by the American Geographical Society for distinguished contribution to the geography of Africa (1972); Honorary D.Sc. (Economics) Stockholm School of Economics Sweden (1973); Hon. D. Litt, Michigan State University, USA (1978); Nigerian National Order of Merit Award (NNOM) (1980); Fellow of the University College London (1981), Fellow of the Nigerian Geographical Association (1984); Recipient of the Grand Medaille of the French Geographical Society (1993); Recipient of the Gold Medal of the Royal Scotish Geographical Society (1994); Hon. D.Sc. University of Benin (1995); Hon. D.Sc. Ogun State University (1996); Distinguished Africanist Award of the African Studies Association of the USA (1997); UNCHS Scroll of Honour for outstanding contribution to human settlements development (1998); and Foreign Association of the United State's National Academy of Sciences, Wahington, D.C (1999).
All these hnours to our distinguished international scholar did nto come about without hardwork and dilligence. These qualities are aptly demonstrated by his intimidating array of publications in the four decades between 1958. His C.V records 25 major books wither through single or multiple authorship and more than 100 journal article and chapters of books. Some of his most notable and enduringg publications include such books as Yoruba Towns (1962); Urbanization in Nigeria (1968); Cities and Social Order (19740; Shelter Provision in Developing Countries (1978); the Development Process: A Spatial Perspective 1st and 2nd Edition (1980 and 1989 respectively); Geography and the Dilemma of Rural Development in Africa (1981) and State of the Earth: Contemporary Geographic Perspectives (1997).
As for journal articles or book chapters one cannot but mention a few as System Approach to Rural-Urban Migration (1970); Manufacturing and the Geography of Development in Tropical Africa (1973); Towards an Urban Policy for Nigeria (1975); Growth Poles and Growth Centres in Regional Development of Nigerian (1978); The Dilemma of Rural Development in Africa (1981); A New Paradigm for Urban Development (1992); The Environmental Challenges in Sub-Saharan Africa (1995); and Preparing African Cities for the Bond Market (1998).
With respect to Consultancy Services, Professor Mabogunje has also distinguished himself. He has consulted for all levels of government in Nigeria, the Local, State and Federal levels on diverse topics of development. At the international level, his contributions are all notable having consulted for such varied organizations as the United Nations Research Institute for Social Development in Geneva; International Council for Scientific Unions; the International Labour Organization (ILO); the Population Council, New York; the African Studies Association; UNCHS; UNDP and UNESCO, among others.
It is on this doyen in the field of Social Sciences, a worthy ambassador of all that the Social Sciences stand for, a motivator in the academic field and a renowned national and international scholar, that the Social ScienceAcademy of Nigeria finds worthy of being awarded this well-earned Fellowship.