Prof. Adebayo Adedeji
HLF LIFE-TIME ACHIEVEMENT AWARD for Nigeria'sMost Outstanding International Economic Icon .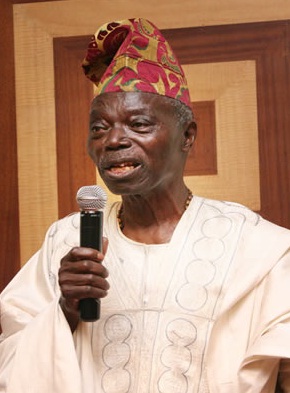 Professor Adebayo Adedeji, born in Ijebu-Ode Ogun State in the year 1930. Has had a singularly distinguished academic, managerial, national and international, diplomatic and political career having served Nigeria in Africa and the international community for over four decades spanning 1950 to 1991.
He was the founder and pioneer Chairman of the Nigeria National Youth Service Corps (NYSC) and the Pere da la CEDEAO – the father of ECOWAS – which he established in May 1975 under the military government of General Yakubu Gowon, after over three years of arduous negotiations with sixteen governments and countries divided into Anglophone, francophone and Lusophone spheres of influence.
He was appointed Executive Secretary of the UN Economic Commission for Africa (ECA) in Addis Ababa in June 1975 and was promoted to the rank of United Nations Under-Secretary-General in January 1978- a position he held with tremendous success until July 1991 when he resigned his appointment to return to his native country after 16 years of international service.
It must not be forgotten that, at the height of the African Great Drought Disaster and Economic Crisis of 1984 to 1986, Professor Adedeji was designated the UN Secretary-General's Special Representative on Africa's Economic Crisis in addition to his onerous duties as ECA's Chief Executive.
He will always be remembered for his unique initiatives for the sustainable development of Africa. Most notable are: The Lagos plan of Action (1980): The Final Act of Lagos (1980): The African Alternative framework to Structural Adjustment Programme (AAF –SAP, 1989) as the UN Secretary-General's Special representative on Africa's Economic crisis, a position he held between 1984 and 1986.
On his resignation from the United Nations, Professor Adedeji established and is currently heading the African Centre for Development and Strategic Studies (ACDESS) – a non-governmental, independent, continental, non-profit-making think-tank which is dedicated to multi-disciplinary and strategic studies on and for Africa.
In recognition of his meritorious services at all levels, he was awarded national honours by seven African countries,  has been conferred with seven honorary doctorate degrees  and was bestowed with the Commander of the Federal Republic (CFR) in 2001.
Professor Adebayo Adedeji, first Nigerian Professor of Administration, Nigeria's post war minister of economic planning and reconstruction, father of the Economic Community of West African States (ECOWAS). A distinguished United Nations under-Secretary General: Executive Secretary of the United Nations Economic Commission for Africa (ECA): Author and Publisher of numerous books, distinguished academic, national and international diplomat, Professor Adebayo Adedji is indeed Nigeria's  Most Outstanding International  Economic icon.
Congratulations!