Mr. Gamaliel Oforitsenere Onosode, OFR
Hallmarks of Labour Role Model Award April 27, 2004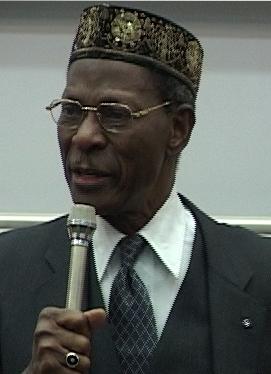 The Nigerian factor! This is an expression that summarizes all that is negative in the nation's socio – economic life. It means compromising your principles for some immediate personal gain. It means selling your birthright, like the biblical son, for a pot of porridge. It stands for corruption, bribery, holding light to an appointment, or office, or even if the atmosphere is no longer favourable.
There are few Nigerians who for all the pots of porridge in this world will never fall prey to the 'Nigerian factor'. One such Nigerian is Mr. Gamaliel Oforitsenere Onosode. A London University Classics graduate, B.A. (Hons) obtained through University College Ibadan in 1975. Mr. Onosode made a successful cross over to the world of business management, banking and finance.
Gamaliel Onosode was born on 22nd May 1933 in Sapele, Delta State of Nigeria. His father Reverend Pinnoch Onosode (1870 – 1975) was a Baptist, Pastor and Gamaliel himself, at the age of ten, gave his life to Christ with his own free will and was baptized into the Baptist Faith on 14th March 1943.
Although the Onosodes are natives of Ekigbo in Ughelli North Local Government area of Delta state, the Pastor experienced many transfers one of which was to Ogimbo another town in Ughelli South local Government area of the same state, where he founded the Baptist school. It was here that Gamaliel had his primary education from 1949 to 1946.
He gained admission into Government College, Ughelli then known as Government middle School and based in Warri in 1947.  Although the school was proud of its many gifted athletes, Gamaliel was more interested in his academic performance. He always stayed within the first two positions in class and was remarkably ahead of the pack in mathematics, English and Latin.
In 1952, he won a state scholarship to study at the University College Ibadan (now University of Ibadan), strictly on the basis of his performance in the university entrance examination. Here again his performance was most brilliant, winning him department and faculty Prizes. He also took part in student polities.
After obtaining his B.A. (Hons) classics degree in 1957, Gamaliel Onosode moved straight into commonwealth development Corporation as Management trainee. Here began his meteoric almost enigmatic rise to a position of eminence and distinction in banking, finance and business management, earning him boardroom positions in numerous government and private organizations. In 1962, he was appointed General Manager, Nigeria Housing Development Society (now Federal Mortgage Bank). In a move which was to become to Hallmark, he resigned his appointment when his idea of making the company a savings gathering in addition to being a mortgage finance providing institution was rejected. This idea was adopted shortly after he left the company.
Mr. Onosode was the pioneer Secretary of the Nigerian Industrial Development Bank later becoming its Assistant General Manager in 1964 became a Director of NAL Merchant Bank Plc in June 1969 and its Chairman and Chief Executive from November 1973 to March 1979. He was Chairman – Cadbury Nigeria Plc, from 1978 – 1993, Chairman, Commerce bank from 1989 – 1994, Chairman Nigerian Stock Exchange Investment Protection Fund from 1995 – 2000. Mr. Onosode also became Chairman of Dunlop Nigeria Plc, at a time when the company needed revival. He introduced measures that actually did the magic.
Gamaliel Onosode's government appointments include Presidential adviser on Budget Affairs and Director off Budget, Chairman Nigeria LNG Limited and Chairman Presidential Commission on Parastatals. His appointments, contributions and awards cut across many fields including education, religious activities and social affairs.
Gamaliel Onosode's life has been directed and controlled by his Christian faith which is why he does not compromise in matters of principle, integrity and honesty.
Gamaliel Oforitsenere Onosode – A Guru of banking, Finance and Management. A Shinning role model of Integrity.