HONOURABLE JUSTICE GEORGE ADESOLA OGUNTADE, CFR
Hallmarks of Labour Foundation is proud to invite Honourable Justice George Oguntade to receive the "HLF Life-time Achievement Award for Exemplary/Courageous Service to the Advancement of our Legal System, particularly in Adjudication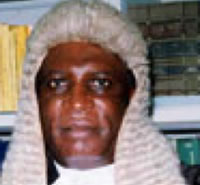 Honourable Justice George Adesola Oguntade was born in Epe, Lagos on March 10, 1940. He attended Holborn College of Law [University of London], UK (1961-1964); and the Nigerian Law School, Lagos in 1965. He was called to the Nigerian Bar on January 15, 1966.  George Oguntade's legal career commenced with a three-year stint as a Court Clerk at the High Court of Justice, Ibadan. After his call-to-bar, he engaged in private legal practice for 14 years and was appointed a Judge of the Lagos High Court in 1980, and then preferred to the Court of Appeal seven years later.  On May 19, 2004, he was elevated to the nation's apex court – the Supreme Court of Nigeria where he served meritoriously till March 10, 2010 having attained the mandatory retirement age of 70 years.
Undoubtedly, Justice George Oguntade is one of the sharpest legal minds that ever sat on the Higher Bench in Nigeria. In his service on the Bench, he made his mark in the advancement of the nation's legal system, even at great risk to his person. His many strategic postings included Chairman, Lagos State Armed Robbery & Firearms Tribunal; Justice of the Court of
Appeal, Enugu; Presiding Justice, Court of Appeal, Ibadan; Presiding Justice, Court of Appeal, Jos; Presiding Justice, Court of Appeal, Lagos; and Presiding Justice, Court of Appeal, Federal Capital Territory, Abuja.
Such were his sound judgments at the High Court that they were hardly over-turned by the Appellate Court. In the same vein, he worked very hard to clear back-logs of appeals at the four Appellate Courts over which he presided. Among the celebrated cases he presided over or co-handled were:
Justice Anyebe Vs Benue [the Judge was sacked by the State Government, but the appeal court reinstated him after a reprimand.
Amechi Vs Omehia/PDP [Amechi's name was replaced by Omehia's after the former was duly nominated. Omehia won the election, and the court ordered him to relinquish office to Amechi as the authentic candidate and winner of the Rivers state Governorship elections.
Justice Oguntade's tenure at the Supreme Court of Nigeria witnessed the delivery of many landmark judgments, which have impacted significantly on our legal system, particularly in the area of constitutional and administrative law. A fearless and courageous George, thorough and resolute in his reasoning, Justice Oguntade would not hesitate to disagree with his colleagues when the need arose.
In his dissenting judgment of the appeal by the Presidential candidate of the ANPP, General Muhammadu Buhari [Rtd.] against the declared winner, President Umaru Yar'Adua of the PDP, Hon. Justice Oguntade annulled the election and ordered a re-run. Interestingly, the President was to admit later that the election was flawed. So sound were his dissenting/minority judgments that rather than alienate him from his colleagues; they have set the tone for younger legal practitioners to explore other angles to similar cases.
Indeed, his understanding of the law and the adjudicatory process as manifested in his judgments, are reference points to lawyers and law students alike. By his incisive and analytical pronouncements, he has contributed to the development of jurisprudence in Nigeria.
Justice George Oguntade has over the years been invited to different fora to share his knowledge, experiences and perspectives on various aspects of law and jurisprudence.
Among his refreshing & illuminating presentations are:
Barrier to Justice — The Nigerian Experience" [International Bar Association Conference, Chicago, USA];
Fighting Corruption and Money Laundering in Banking" [International Symposium on Economic Crimes, Cambridge, England];
Dissenting Judgments and Judicial Lawmaking" [Nigerian Institute of Advanced Legal Studies]; and
Surely Justice is denied When Delayed" [Transcorp Hilton, Abuja]
.Beyond the Judiciary, Justice Oguntade has also served society in many other roles.
He is Chairman, Customer Complaint Bureau, Nigerian Insurers Association and member, World Jurist Association.
He is Commander of the Order of the Niger and Commander of the Federal Republic.
A God fearing man, he has been Chancellor of Anglican Diocese of Lagos since 1992 and the recipient of the First Anglican Communion National Award for Integrity & Excellence. Justice Oguntade is happily married to Mrs Modupeola Adewemimo with children and grand children.
*****
Today, Hallmarks of Labour Foundation is proud to invite Honourable Justice George Oguntade to receive the "HLF Life-time Achievement Award for Exemplary/Courageous Service to the Advancement of our Legal System, particularly in Adjudication".
Congratulations.