Hon. Justice Mohammed Bello, GCON, HLR
Hallmarks of Labour Role Model Award October 30, 1998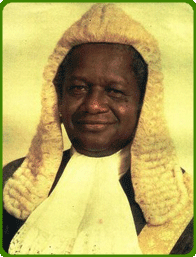 Justice Mohammed Bello (1930–2004) was the first Northern Chief Justice of Nigeria (1987–1995). He was an eminent jurist who tried to protect the court against the excess of military incursion in judicial matters.
Mohammed Bello was born in Katsina, his father, Gidado was the mufti of Katsina. He started early education at the Central Elementary school Katsina, in 1943. For secondary tutelage, he attended the Middle school in Katsina. He then proceeded to the University College Ibadan to study Latin as a preparatory course for a Law degree. Between 1953 and 1955, he was at Inn of court, London, earning his law degree. Mohammed Bello then started his professional law career as the pupil crown counsel to the Northern Nigeria government in 1956. In 1961, he was appointed the chief magistrate, Northern Nigeria and served in that capacity for three years. He took on another public duty as the Director of Public Prosecutions, Northern Nigeria. During the waning months of the Nigerian civil war, Justice Mohammed Bello was appointed acting and later Chief Justice of Northern Nigeria between 1969 and 1975.
In 1975 he was appointed Justice of the Supreme Court of Nigeria. Described as a detribalized Nigerian by some of his peers, Justice Mohammed Bello's tenure at the Supreme Court was one of a fearless actor in the midst of a military onslaught on democratic norms and judicial precedents. As the supreme court chief he steered the wheels of the judiciary towards peace and away from political controversy with the exception of a few instances. In 1986, he was the chair of a judicial inquiry tribunal that reviewed military court decisions affecting prominent politicians such as Olabisi Onabanjo, Prof D.A. Odenikpe, Dr Oladewa, Prof Ambrose Ali, Mr Solomon Lar, Chief Melford Okilo, Olawale Edwards, and Chief Folowonsho.
In 1987, He rose to the pinnacle of the Judiciary with his appointment as the Chief Justice of Nigeria until his retirement. Hon. Justice Mohammed Bello holds several honours including the Grand Commander of the Order of Niger, GCON.