Hon. Justice Chukwudifu Oputa, CFR, HLR
Popularly regarded as Socrates of the Nigerian Bench August 18, 1998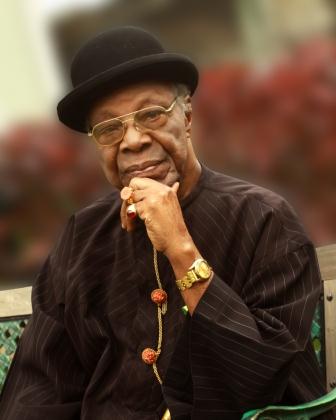 If you are a student of Philosophy, you will no doubt have come across the name Socrates, the great Greek Philosopher, whose life, thought and method have been of immense influence on the legal profession. Socrates was a strong patriot, who believed that a citizen is bound by conscience to obey the laws of the state. That is how we must introduce our role model – the Honorable Justice Chukwudifu Akunne Oputa (rtd.), erstwhile Justice of the Supreme Court of Nigeria, a man who has been aptly described as the Socrates of the Supreme Court.
Justice Oputa was born on 22nd September 1924 in Oguta, Imo State, hence he is fondly called Oputa from Oguta. His father was Chief Oputa Izukwu and his mother Madam Nwanetu Oputa. He had his early education in Sacred Heart School, Oguta and Christ the king College, Onitsha.
After this, the young Oputa went to Yaba Higher College, but due to the exigencies of the Second World War, was sent along with others to the famous Achimota College, Ghana, then Gold Coast. There he graduated B.Sc (Hon) Economics in 1945. After this he came back to Nigeria and took up a teaching appointment with Calabari National College. He later came to Lagos where he worked as an ADO (Assistant District Officer). It was here that Justice Oputa achieved a remarkable feat; he studied at home and obtained his BA (Hon) history at home.
Justice Oputa then proceeded to London where he got his LLB (HON) and was called to Bar in Gray's Inn, London.
Upon his return to Nigeria, then Barrister Oputa went into brilliant and successful private practice, handling such celebrated cases and special inquires as the Oguta Chieftaincy dispute 1958/ 59, the Amanyanabo Dispute 1956/ 60 and many more.
In 1966, Justice Oputa was appointed Judge of the High Court of the then Eastern Nigeria and moved on to become the first Chief Judge of Imo State ten years later.
In 1984, the great elevation came – the exalted position of Honorable Justice of the Supreme Court of Nigeria. It did not take long before Justice Oputa put his stamp on the Supreme Court as a man profoundly moved by classical literature, history, divinity and philosophy and whose judgments possessed the temerity that is in the preserve of genius. No wonder that the then chief justice of Nigeria, Justice Mohammed Bello nicknamed him Cicero.
Even as he was proceeding on retirement in 1989, it was quite clear that Justice Oputa still had much more to offer.
Justice Oputa's neatness and personal appearance never goes unnoticed. Justice Oputa is not all law. He is a devoted Christian and plays active role in the church. He is honored in the Catholic Church with Knight Commander of St. Gregory the great. He is also Knight Commander of St. Sylvester pope, Knight of St. Mulumba.
Justice Oputa has published over 40 papers in lectures, conferences and seminars. He continues to be given Federal Assignments even after retirement.
Justice Oputa is a dedicated family man exemplarily devoted to his beautiful wife Margaret and his lovely children. His second son is Mr. Charles Oputa well known by music lovers as Charly boy.