Chief Frederick Rotimi Alade Williams, CFR, CON,SAN,HLR
Hallmarks of Labour Role Model Award October 3, 2002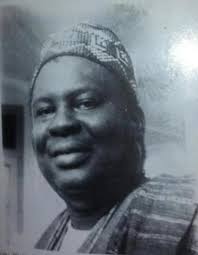 In every field of human endeavour, there are to be found three categories of people: those who make things happen, those who watch things happen, and those who wonder what has happened.  To the first category belong the leaders, the pace setters who blaze the trail for others to follow.  Coming to specific terms, in field of Law, Chief Fredrick Rotimi Alade Williams, BA, MA, CFR, SAN is one such leader.
A man of monumental stature, both in physique and in the legal profession, FRA Williams fondly called Timi the Law, was the first person to be conferred with the honour of Senior Advocate of Nigeria (SAN) and is currently the Chairman of that body.  He was the first even Minister of Justice and Local Government in the former Western Region of Nigeria, and the first Chairman of the University of Ife, now Obafemi Awolowo University, Ile-Ife.
Chief F.R.A. Williams was born in Lagos on December 16th, 1920.  He was named after his maternal grand-uncle, Rotimi Alade Esq, who enrolled as a legal practitioner in 1892.  Chief Williams' father, the late Thomas Ekundayo Williams, was also a Lawyer. He enrolled in 1927.  And it is remarkable that today, three of Chief Williams children and two of his grand-children are practicing lawyers, thus laying the foundation for the Williams domination of the professions for generations to come.
Chief F.R.A. Williams had his primary education, first at the Baptist academy, Lagos from 1927 – 1928, and later at the Methodist school, olowogbowo, Lagos from 1928 to 1933, from 1934 to 1938, he attended CMS Grammar School, Lagos Chief Rotimi Williams could very well have been an engineer because he was awarded full scholarship to study Mechanical Engineering at the Yaba Higher College. However, he preferred to follow the footsteps of his father and grand uncle in the legal profession.  And so in 1928, he was sent by his father to the United Kingdom where he was admitted into Selwyn College University of Cambridge when in 1942 he graduated with the Bachelor of Arts Honour Degree.
Between 1942 and 1943, Chief Williams studied at the Grays Inn, London, where he qualified as Barrister-at-Law.  He was awarded the Master of Arts Degree of Cambridge University in 1946.  Meanwhile, in 1943, Chief Williams had enrolled as a Legal practitioner of the Supreme Court of Nigeria, the only Nigeria among the six persons enrolled in that year, the remaining five being British expatriates.
Chief F.R.A. Williams immediately went into practice, and for over five decades now, Chief Williams has been a foremost member, a leader of the Nigeria Bar. In recognition of his professional skill and experience and also for his brilliant advocacy, Chief Williams was made a Queens Counsel in 1958. Before this, in 1952, he had become the Chairman of the Lagos City Council and, in that capacity, had laid a firm foundation for the future development of the Local Government in Metropolitan Lagos.  He only relinquished that post when in 1954; he was appointed Minister of Justice and Local Government in the Western Region.
Other appointments followed in quick succession.  In 1960, he was acting Premier of Western Nigeria, between 1962 and 1968; he was Chairman, council of Legal Education, Lagos; Chancellor, University of Nigeria, Nsukka, and Chairman, National Universities Commission, 1968 to 1973.  He became Senior Advocate of Nigeria, the first ever in April 1975; Chairman, Constitution Drafting Committee, 1977; member, Defunct Constituent Assembly 1978, and member, Body of Benchers, Nigeria Law School.  He was also president, Nigeria Bar Association (NBA) from 1959 to 1968.  He possesses the Distinguished Law Award of the Mohammed Bello Endowment in Jurisprudence.  In 1965, he was awarded the Commander of the Niger, and in 1978, he was conferred with the Commander of the Federal Republic (CFR).  His honourary degrees include Doctor of Laws, University of Ibadan, 1975, and doctor of Laws, University of Ife (now Obafemi Awolowo University), 1976.  An erudite lawyer, his private library contains more volumes that many tertiary institutions.
Chief F.R.A. Williams has attained the zenith; the highest level of his profession, not without the support of his second half chief (Mrs.) Beatrice Ola Rotimi Williams, who by the hand of providence, slept in the Lord on Saturday, February 7th, 1998.  Undoubtedly her call to glory has created some gaps in his system.
Chief Frederick Rotimi Alade Williams, a legal luminary, a leader, an acclaimed and acknowledged authority in every branch of the law, an upright gentleman, committed to seeking justice for everyone.  A Prime Role Model.