Chief Folake Solanke, SAN, HLR
Hallmarks of Labour Role Model Award December 14, 2004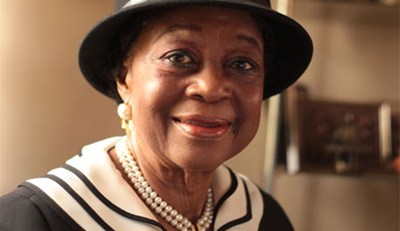 Chief  Olufolake  Solanke  became the first female lawyer to be conferred with Senior Advocate of Nigeria (SAN) in March 1981 and this is just one of her numerous achievements. In 1972, She was appointed commissioner, Western State of Nigeria. Chairman, Western Government broadcasting corporation television and radio network service. On the international scene, Chief Folake Solanke became a source of pride not only for Nigeria and the Nigerian woman but also for Africa and the black world as a whole. On July 21st 1994 she became the 42nd president of Zonta International.  This made her the first non – Caucasian to be elected and to hold the position of Zonta International President since Zonta was founded in 1919. As it happened in the case of the conferment with the honour of Senior Advocate of Nigeria, Chief Solanke opened the gate for African contestants as the next President for Zonta International after her turned out to be an African.
Chief Folake Solanke was born in Abeokuta in the present day Ogun state on 29th March 1932, her father was the well known J.S Odulate, founder/ proprietor of Alabukun medicine store Abeokuta. Her mother was Madam Sekumade Abiodun Odulate who died when Folake was just two years old, she recalls that even though her father was a polygamist, her step- mothers were very good and caring and displayed much love to her.
She attended Ago Oko primary school Abeokuta from 1937-1939, Emo girls school Abeokuta from 194o-1944 and Methodist girls high school Yaba Lagos from 1945-1949. Her young formative years did indeed point to a bright future as her natural brilliance and talents were copiously displayed through out her career in MGHS, she consistently took the first prize in English and mathematics. In 1949, she became Games Captain as well as School Prefect and at the West Africa School Certificate Examinations that held that year, she became the first student of the school to obtain grade one. In 1950, she did a one year higher course in Queens' College then in Onikan Lagos before proceeding to England for her post basic education. In 1951, she entered the King's College in the University of Durham, now the University of Newscastle in England where she obtained her BA (2nd Division) Latin and mathematics in 1954. Diploma in Education (2nd Division) in 1955 thus setting for herself a teaching career. She joined Pipers Corner School, Great Kingshill, High Wycombe, Buckinghamshire, England  where she taught Latin and mathematics from 1955-1957. Later she moved to St. Monica's school, England to teach the same subjects from 1957 -1958.  In 1960, she was admitted into Gray's Inn London for her professional training and was called to bar in 1962.
Upon returning to Nigeria  from England in 1962, Chief Folake Solanke  joined the chambers of MA Odesanya now honourable Justice Odesanya, Lagos from August  1962 – May 1963 from which she moved to the chambers of Chief FRA Williams in Ibadan as Junior council in 1963. Following her conferment with Senior Advocate of Nigeria (SAN) in 1981, Chief Solanke was installed the Yeyemofin of Ife by the Ooni Oba Okunade Sijuwade Olabuse II. She has held many positions in various institutions and associations covering a wide spectrum of activities. Her papers and publications number over seventy also covering fast areas including law, women's rights, Zonta and Christian topics. Married to late Emeritus Professor Toriola Solanke, they are blessed with three children: Dr (Mrs) Oluyemi Koya is both a medical doctor and a lawyer, Engr. B.A Solanke and Miss Olushola Solanke, a mathematician and MBA London Business School degree holder.
Chief Olufolake Solanke, Senior Advocate of Nigeria, Yeyemofin of Ife, former president of Zonta, brilliant, hardworking and focused. She is truly an inspiration to everyone man or woman.