Chief Eleazer Chukwuemeka Anayaoku, TC,GCVO, CON, HLR
Hallmarks of Labour Role Model Award May 15, 2001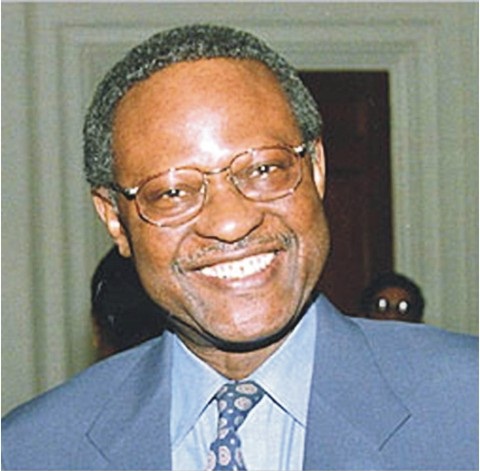 When in 1966 Chief Emeka Anyaoku (then simply Mr.), was seconded from the Nigeria Foreign Service to the newly established Commonwealth Secretariat, at the request of the first Secretary-General, Arnold Smith of Canada, little did anyone realize that he was being made to take his first steps towards becoming one of the most important, most respected diplomats in the world.  Chief Emeka Anyaoku brought to his new assignment his well-known brilliance, his penchant for hard work, and his determination to succeed. No wonder then that he moved up the ladder very quickly:  First Assistant Director of International Affairs, later becoming director, and in 1975, Assistant Secretary-General.  He was elected by government of the Commonwealth, Deputy Secretary General in 1977, and it was from this point that his dexterity, his polished persuasive skills, and his unwavering commitment to democracy and justice became fully recognized and respected throughout the commonwealth.
Chief Emeka Anyaoku, as Deputy Secretary-General, played a key role in preparing many declarations, some of which are the Lusaka Declaration of the Commonwealth on Racism and Racial Prejudice [1979]; the Okanagan Statement and Programme of Action on Southern Africa [1987] and the Commonwealth accord on Southern Africa [1985].  This, which was later known as the Nassan Accord, played a pivotal role in the pressure to end apartheid, through establishment of the Eminent Persons Group and initiating multi-lateral agreement on the imposition of economic sanctions.
At the Commonwealth head of Government meeting in Kuala Lumpur, Malaysia in 1989, Chief Emeka Anyaoku's qualities were already well known and it was easy for him to be elected the new Secretary-General in preference to the former Prime Minister of Australia, Malcolm Fraser.  Chief Emeka Anyaoku then became the third Secretary-General of the Commonwealth – the first Nigerian, the first African, and the first black man to occupy the most senior position on the international stage with direct personal access to over fifty Heads of State and Government, and Her Majesty the Queen Elizabeth 11.  It means representing more than 1, 700 million people.  It also means being completely in charge of an organization which has no block votes and no votes.
Back to the beginning, Chief Emeka Anyaoku was born on January 18, 1933 into a well-respected family with a long history of traditional titles, in Obosi, in Anambra State, Nigeria.  After his elementary schooling at CMS Central School, Agbor, Emeka Proceeded to Merchants of Light School, Oba for his Secondary education.  It is on record that Emeka Anyaoku earned the school's first grade on result at the Cambridge School Certificate Examination.  He later went to the University College, Ibadan – then a college of the University of London – as a college scholar and obtained an Honors Degree in classics.
In 1959, Emeka Anyaoku joined the Commonwealth Development Corporation, from where he joined the Foreign Affair Ministry.  In 1963 he was posted to Nigeria's Permanent Mission to the United Nations in New York.  It was from here, in 1966, that Emeka Anyaoku made the big move to the Commonwealth.
Meanwhile, while still in CDC, Emeka had met in 1962 tall beautiful Miss Ebunola Olubunmi Solanke at a party.  Just back from a course in London Ebunola was in need of a job. Emeka promised and went ahead and found her a job, first as a secretary in an insurance firm, and later as a wife and mother, diplomatic partner, hostess and community leader.  Their marriage took place in 1962, has been blessed with four children.
Chief Emeka Anyaoku is a traditional chief.  He is Achy Adazie of Obosi and Ugwumba Idemili of the Idemili Clan.  His wife is also a chief and they both perform their traditional roles in addition to their international engagements.
Chief Emeka Anyaoku's achievement as secretary-General are indeed numerous and highly commendable.  They include assisting member countries in strengthening democracy, accountable administration and the rule of law, observer missions to parliamentary and presidential elections, and training in constitutional drafting among others.  One of his most outstanding successes was his positive leadership role in securing the end of apartheid in South Africa.
Even in try and embarrassing circumstances, such as when Nigeria was suspended from the Commonwealth over the execution of Ken Saro Wiwa and others, Chief Emeka Anyaoku remained calm, preferring always to stand by truth, justice and fairness.
In recognition of his spectacular performance Chief Emeka Anyaoku has received honors and awards too numerous to be mentioned fully in a short documentary.  He is a Commander of the Order of the Niger [CON], an Honorary Knight Grand Cross of the Royal Victorian Order – a personal gift of the British Sovereign Conferred on individuals of special distinction.  Other national honors have come from Lesotho, Cameroon, Namibia, Trinidad and Tobago and Zanzibar.  Chief Anyaoku has many honorary appointments including the recent one by the Federal government of Nigeria as the Chairman of the Presidential Advisory Committee on International Relations.  He possesses twenty-three honorary degrees from universities all over the Commonwealth, while the University of London has established Professional Chair in Commonwealth studies named after Emeka Anyaoku.  Chief Eleazar Chukwuemeka Anyaoku retired as Secretary-General of the Commonwealth on March 31, 2000 after two full terms of exemplary and meritorious service – a worthy role model, not only for Nigeria, but for the whole of African and the entire black world.